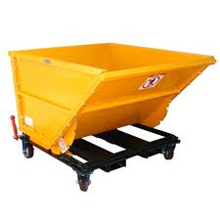 Forklift Dumpster
If you are looking for the most convenient way to store, transfer and eliminate the waste from your construction project, then you should consider using forklift dumpster.
Forklift dumpster refers to small dumpsters or steel hoppers especially designed to be compatible with forklift trucks. This type of dumpster has been used in large factories and shops in disposing huge and heavy waste materials. Forklift dumpsters are locked up onto the prongs of forklifts allowing the operator to lift it up and safely dispose all the refuse.
Forklift dumpsters are basically made from heavy duty steel, but gauge steel construction may differ with every manufacturer and type of forklift dumpster. In addition, forklift dumpsters come in variety of sizes ranging from ½ yard to 5 yards holding of up to 6,000 pounds of waste materials.
Types of Forklift Dumpsters
There are different types of forklift dumpsters. Each type has its own distinct features to cater to various needs.
Self dumping hoppers – These are low-profile dumpsters featuring a 90-degree dump angle to provide quick and easy dumping of garbage without letting the forklift operator leave his seat. This is because this dumpster automatically goes back to its locked position once lowered onto the ground.


Industrial dumpsters – These dumpsters are specially designed to conveniently handle and store bulky waste materials.  They are widely used in large and open-air facilities such as warehouses, distribution centers and plants. In addition, they also come with foot-operated caster locks.


Self dumping hoppers with bumper – These dumpsters automatically release all the refuse once the bumper makes contact. After releasing the refuse, the dumpster automatically returns to its upright position and locks in place. Furthermore, it can rotate up to 70 degrees.  These dumpsters are made from heavy duty steel making them leak-proof.


Stackable dumpsters – This type of forklift dumpster serves as portable self dumping hoppers widely used on warehouses and factories as well as on industrial settings with limited storage space. Besides, the beveled cross-channel of stackable dumpsters allows easy entry of forklift prongs while the channel bumper provides protection and added strength.


Portable dumpsters – These dumpsters are made both for indoor and outdoor use which enables easier handling and dumping of wastes.  It is perfect for collection and transport of waste materials.


Dumping hoppers – These shaft dumping receptacles are perfect for areas with restricted storage space. It features a front door which opens when dumping its contents. The door is specially designed to automatically close and then lock after dumping all its contents.


Parts hoppers – A low-profile 18-inch high forklift dumpster which can be placed under the machines serving as catch basins of parts. These dumpsters have fork pockets that allow dumping by up to 90 degrees.
A forklift dumpster proves to be invaluable equipment for huge construction projects where it can quickly store and dispose construction wastes like cement bags, rubbles, cut-out steel and wood. Besides, using forklift dumpster with fitted casters lets you move it around the job site and collect the trash easily.